Broadview and Starlink: A Marriage Made in the Heavens?
March 5, 2022
Our Broadview weather station is back up after a long hiatus. It is now connected to the internet using a Starlink satellite connection.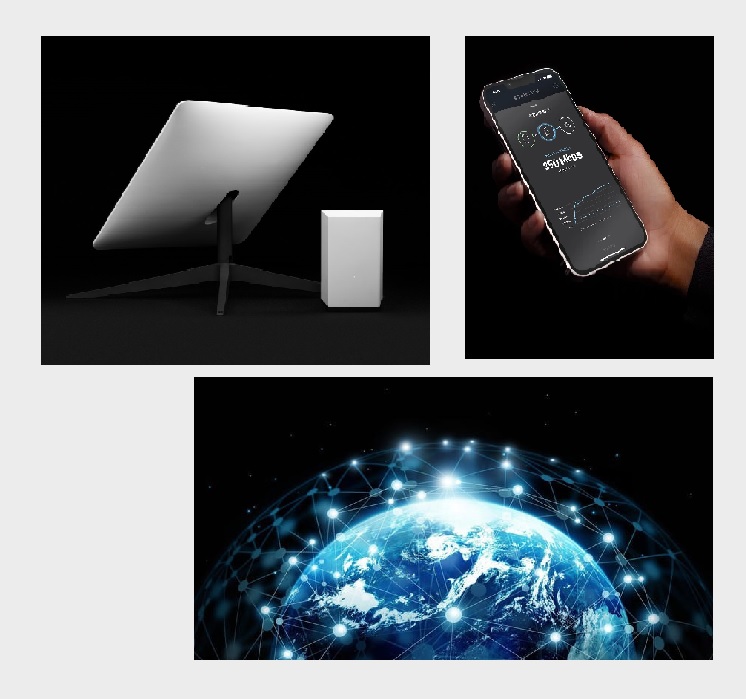 The best way to view the Broadview weather is download the Davis app to your cellphone: click here for Apple or here for Android. Or you can see the current weather right now by clicking here.
You can stop reading now if you only need to access the Broadview weather. The site is located about 8 miles NNE of St. Francis, Kansas. Here is a Google Earth link.
But if you want to know why we are using Starlink, instead of the previous point-to-point connection, or a cellular solution, keep reading.
For the Broadview application, Starlink is probably overkill. But the technology is fascinating, and might be very useful for someone living where they have no cellular signal, or who need more data than the typical cellular contract allow. Starlink will theoretically be available nearly everywhere, and currently has no data caps, as well as moderately fast speeds: more than 100 Mbps down typically.
Satellite internet has been available for years, but only from satellites in a geosynchronous orbit: more than 22,000 miles high in the case of Earth. GEO means that while it is easy to point an antenna at the GEO satellite since it doesn't move relative to the earth's surface, the latency of the signal is very high and often the download speeds are low.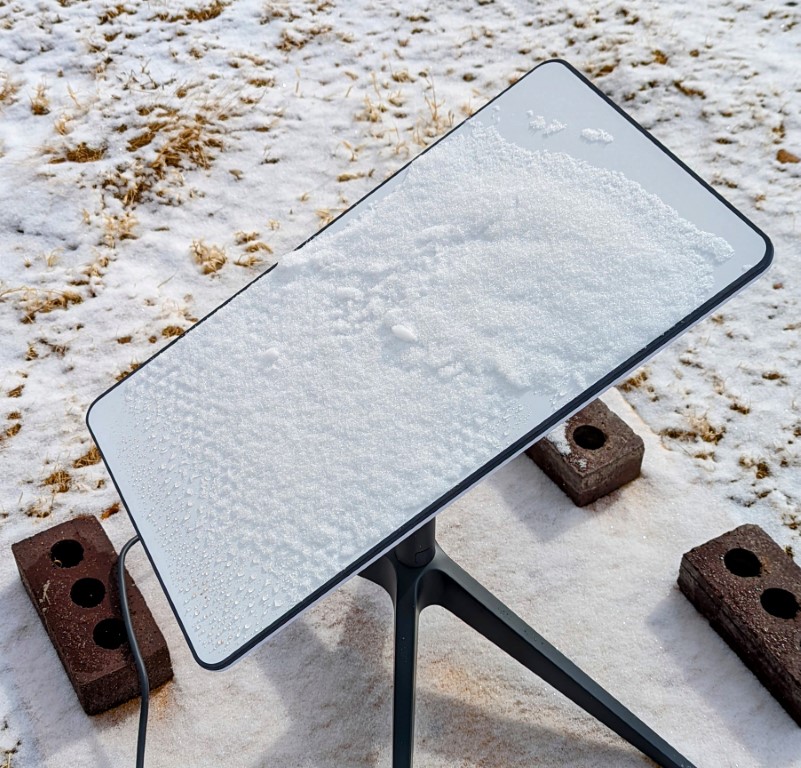 In contrast, Starlink uses a very large constellation of satellites in low earth orbits (LEOs) of about 300 miles, so the latency is in the 20-40 ms range: quite acceptable delay for most internet uses. The Starlink antenna isn't fixed: it moves around to capture new satellites on a regular basis, since satellites in LEOs have to move quickly across the earth's surface.
Orbital mechanics dictates higher speed for lower orbits, and simple geometry tells us that lower satellites "see" much less of the earth's surface. So you have to have more of them: the Starlink constellation is 2,000 birds, but they have plans to orbit between 12,000 and 30,000 satellites, using the SpaceX rockets to send up several every time. It's an ambitious project, and controversial. But launching into LEO takes a lot less energy than GEO, and SpaceX is not the only company in this market, so it may be viable.
A Starlink subscription, if you can get one (they are limited now), has a $500 acquisition cost and a $99/month fee, so not cheap. But you can have it in places where fast internet is otherwise impossible. This is a big deal: this Michigan State University study study shows that students without broadband and computers do much worse on SAT tests: 7 percentiles! Fast internet is a necessity, not a luxury, in the 21st century.
There are a lot of objections and caveats to be aware of with Starlink: the service has short interruptions when the system moves from one satellite to another. You need an unobstructed view of the sky, and this view has to be in all directions, not just southerly as with GEO systems. Some people object to having so many satellites in this orbital plane, fearing collisions with other satellites, a situation which creates debris that can't be de-orbited and which becomes a cloud instead of a single object. There are issues with blocking astronomical observations, because the LEO satellites reflect light and block views. Some people believe that eventually destroying the satellites will pollute the upper atmosphere with aluminum, and the Kessler syndrome is also mentioned.
A minor thing we found interesting is that the Starlink antenna can sense snow and employ internal heating to melt it. If you look closely at the image of ours after a light snowfall, you can see the grid pattern where the unit is apparently melting the snow. When the photo was taken, we were still getting download speeds of about 125 Mbps, so it was working well even with the light snow cover.
We take all of these objections seriously, and we'll re-think our support if we believe that any or all of them represent dangers which outweigh the huge benefits that the Starlink tech provides.
But for us, the jury is still out, and we are anxious to have extended real-time interaction with this clever method of distributing Broadview weather information.
Grace Flying Service Sells Ag Business
November 5, 2020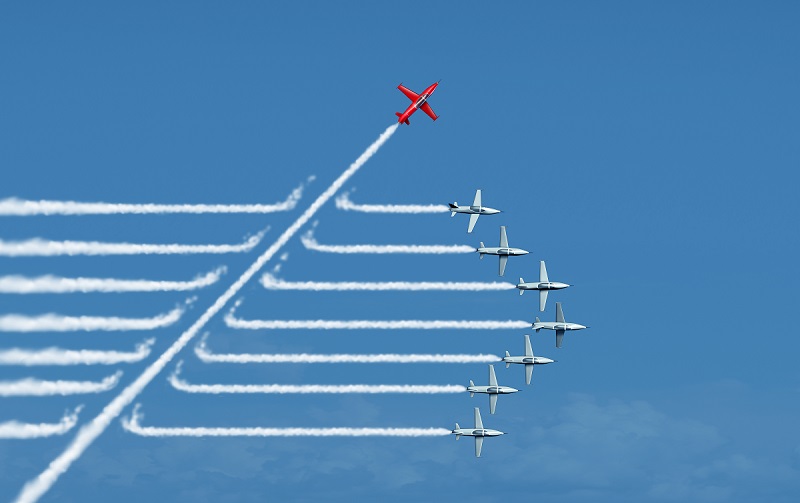 On November 3, 2020, Grace Flying Service service sold its agricultural business to Nutrien Ag Solutions. Nutrien now provides our ag customers with the same services which we have provided for seven decades.
An important element of the sale was to ensure a seamless transition for our customers.
We wanted our customers to have an easy path to satisfy their crop protection needs. We believe that Nutrien Ag Solutions will fill that bill. We have watched Nutrien work over the last year--sharing the airport with them--and we think that they will provide you with excellent service.
Customers will call a different phone number, and visit a slightly different office location, but with Nutrien utilizing our loading and fuel facility, the airport's operational atmosphere hasn't changed.
Nutrien Ag Solutions conducts their operations with their aircraft from their existing hangar and office, located on Hangar Road here on the Cheyenne County Airport in Saint Francis.
Thank you for your past business. It has been our pleasure to serve you!
Fall Thistle Options
September 22, 2020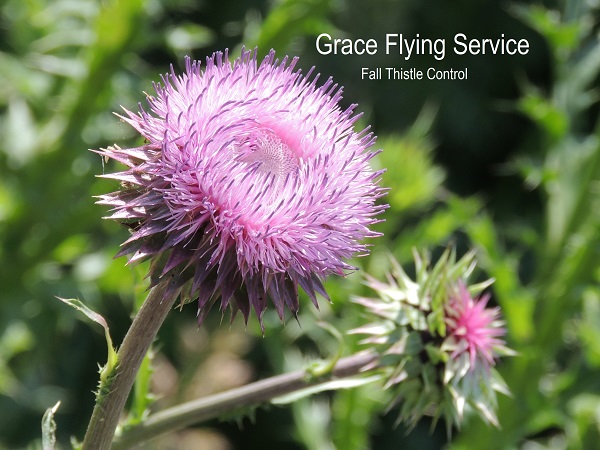 We are sending our annual fall thistle postcard today. If you are on our thistle mailing list, you should get a card that looks like the image. If not, well, here's what it said:
Fall is the best time to aerially treat pasture thistles.
We need your order and maps soon so that we can plan an application schedule. The window of opportunity can be quite short in the fall, and small acreages require combining customer loads.
Our deadline for taking thistle orders is Tuesday, October 13, 2020.
Musk and bull thistle can be treated until the ground freezes, but Canada thistle needs treated before a killing frost. We think the best chemical choice is GrazonNext HL, which is a pre-mix of Milestone and 2,4-D.
The Cheyenne County Weed Department cost-shares 25% of the chemical cost on approved applications, and we handle the paperwork for you.
Green Cloverworm is Here
August 27, 2020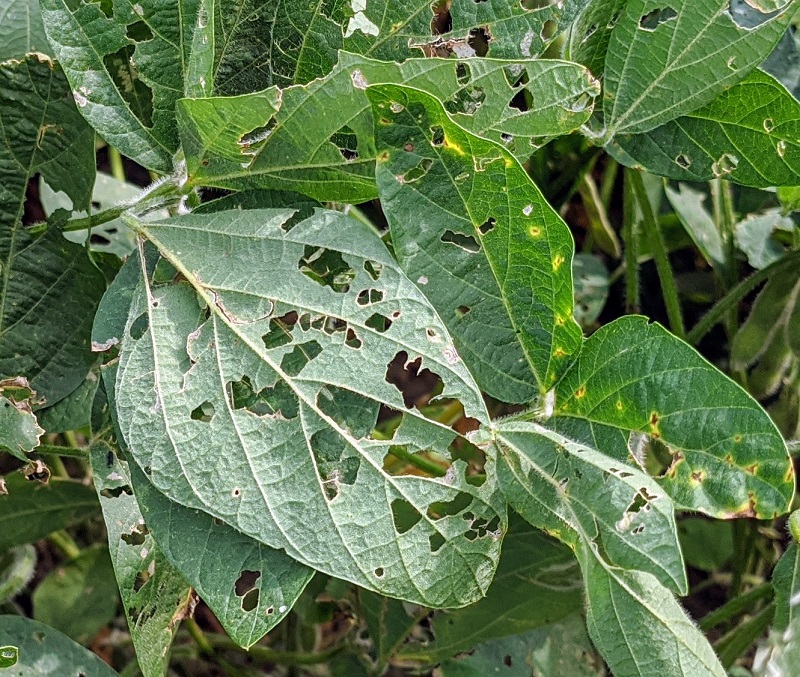 We are treating green cloverworm in soybeans. This is a rare application for us, so from an entomological standpoint, this is noteworthy.
The green cloverworm is an aggressive defoliator: the photograph shows a randomly selected leaf, apparently early in the infestation. It is easy to overestimate damage caused by defoliation, and also difficult to estimate the degree of defoliation which has occurred by merely observing the leaf with an uncalibrated eye.
According to this site, the level of infestation normally required for economic threshold varies from 10-50%.
Treatment is inexpensive, about one bushel at today's soybean price. We don't know how widespread the cloverworms are locally, so if you have soys, you should probably scout your fields, if you don't have a consultant. The defoliation is obvious, but if you want to see live worms, try placing a paper plate in the row--under the canopy--and jostling the leaves vigorously.
The larvae resulting from that shakedown have an interesting, almost explosive, motion trait: after remaining motionless, a touch will cause them move rapidly. They "play possum", perhaps. They are not loopers, because they have three pair of prolegs, not two. (If you already knew that, you should probably just skim the rest of this post.)
Most of us also over-estimate the percentage of leaf loss. Here's a link that proves the point for most people.
In addition, it says here that "green cloverworm larval populations usually do not reach damaging levels due to their susceptibility to attack by parasites and pathogens. Parasitized larvae appear mottled brown and slightly shrunken with their bodies tapered at one or both ends.
"
So look carefully for dead or dying larvae: it might save you the cost of treatment if the parasites/pathogens are controlling the worms adequately.
This link gives excellent scouting tips, and says 12-13 worms per row foot is the minimum economic level, and says that green cloverworms are generally not considered a "serious pest." The link also has a table to consult if you have higher levels of infestation: you can consider not only prices but plant stage, which is an important variable in terms of economic damage.
Corn Insect Customer Postcard
July 17, 2020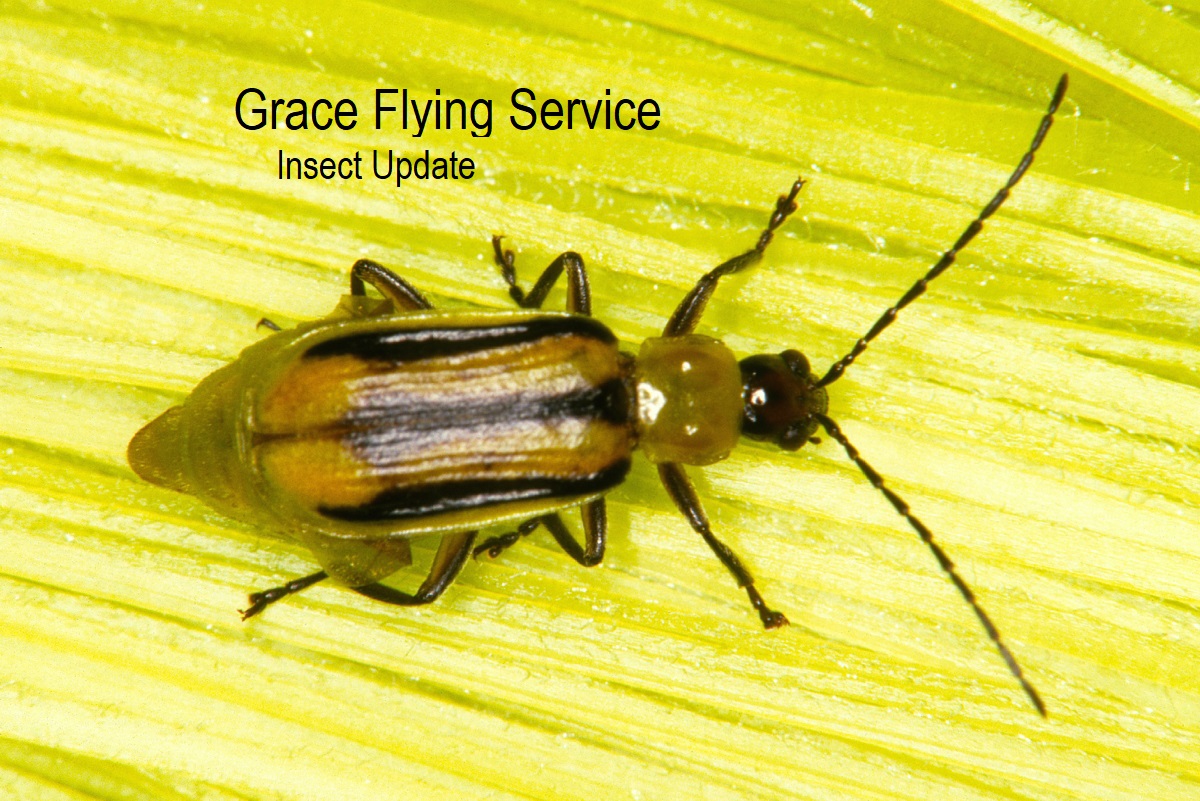 We are sending a corn and sunflower insect options postcard today to our customers.
We think that for spider mite control Onager or Portal are good choices. Early treatment is key, to control eggs. Rescuing heavy mite infestations later in the season is not usually effective. (Comite works, but the 13 day REI can be a real problem with a broken center pivot...)
Corn rootworm beetles are best controlled with Steward, which is higher priced than bifenthrin (Capture) or chlorpyrifos (Lorsban). Steward does not flare spider mites, so if you don't need a miticide, Steward is probably worth the extra cost.
For Western Bean Cutworm, use bifenthrin or Steward.
In sunflowers, the most common insects are head moth and red seed weevil. Treat at 20% bloom with Warrior plus Lorsban (chlorpyrifos).
We think that adding 6 ounces of tebuconazole to corn and sunflower treatments makes a lot of financial sense. For less than $3/acre, you can reduce disease pressure for a yield boost.
For a foliar boost, we have CoRoN Metra available.
Bayer Pays $10 Billion To Settle US Lawsuits
June 26, 2020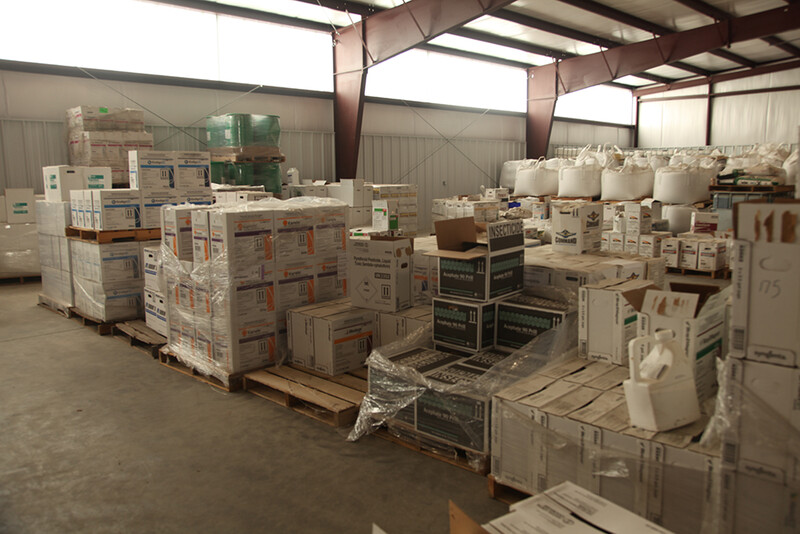 Bayer has been in the ag news lately. A lot.
This Reuters article explains that Bayer agreed to pay $10 billion to settle 125,000 (!) lawsuits alleging that glyphosate causes cancer. A few of the existing high-profile cases (we covered one of these cases here) are not covered with this agreement, because they are under appeal by Bayer.
The Bayer CEO, Werner Baumann, is quoted as saying "Unfortunately, we have to pay an awful lot of money for a product which is perfectly regulated."
In the US, full compliance with Federal regulatory agencies does not confer immunity from law suits, and we assume Baumann was making that point in his statement.
Ken Feinberg, a very experienced settlement mediator, said, "Bayer wisely decided to settle the litigation rather than roll the dice in American court."
The $10 billion includes $400 million to settle the dicamba volatilization lawsuits that have also been in the news recently. More below.
Bayer argues , convincingly, we think, that "more than 100 studies (the) EPA considered relevant to its cancer risk analysis, and more than 800 safety studies overall submitted to regulators" conclude that glyphosate is not carcinogenic.
Most of the lawsuits, we believe, cite a single, dubious, WHO document that concludes otherwise.
The dicamba news, which seems major when you read about it, apparently only represents 4% of Bayer's troubles, based upon the settlement numbers above. But here is a summary of the debacle:
On June 3, 2020, when ruling on a lawsuit filed with the Ninth Circuit Court of Appeals, a three-judge panel vacated the EPA's approval of the use of three dicamba products. These products are used in soybeans and cotton crops which were planted with seed genetically engineered to be resistant to the effects of dicamba.
The three products in question are Bayer's Xtendimax, BASF's Engenia, and Corteva's FeXapan.
The original EPA approval lasted through the end of 2020, but the Ninth Circuit's recent ruling "vacated" that EPA decision. The judges used strong language in this decision, arguing that the EPA had "failed entirely" to acknowledge risks dicamba poses, and that the agency violated federal regulations when it extended its approval of registration.
U.S. Secretary of Agriculture Sonny Perdue apparently didn't like the Ninth's abrupt decision, and Perdue urged the EPA to figure out a way around the court ruling, arguing for the industry that dicamba is an important tool for farmers and that it shouldn't be banned mid-season.
The EPA apparently didn't much like the judge's declaration, either, as they issued a Final Order which not only extensively cited objections by groups sympathetic to the farming industry, but which also allowed existing stocks of the herbicide to be used until the end of July, 2020, in order to avoid excessive damage to the industry, and to provide a way for those existing stocks to be disposed of consistent with label restrictions.
This despite the fact that the court specifically said in its order that it wanted "no delay" in vacating those previous approvals. The court cited damage done by dicamba use in past summers to millions of acres of crops, orchards and vegetable plots across U.S. farm country. We have previously discussed these cases.
By implementing the July 31, 2020, expiration date, some of the potential damage to Bayer's customers was negated, at least for this growing season. This is especially true for those farmers and commercial applicators who had already invested in the herbicides and/or the seed technology earlier in the growing season, relying on the EPA's previous guidelines when they made those investments.
However, that Final Order by the EPA didn't sit well with the Center for Food Safety (CFS), who said in a statement that the EPA's action was "disingenuous" and "ignores the well-documented and overwhelming evidence of substantial drift harm to farmers from another disastrous spraying season."
BASF says that it will continue to pursue re-registration of Engenia with the EPA, and is assessing its options to pursue legal remedies to challenge the court order.
In February, a unanimous jury awarded a Missouri peach farmer $15 million in compensatory damages and $250 million in punitive damages to be paid by Bayer and BASF for dicamba damage to his property. We reported on that story here.
If you own any of these products, you should either attempt to return them to whomever sold them to you, or use them before July 31, 2020. If you elect the latter, it is vitally important that you understand and comply with the extensive label restrictions: we previously discussed some of these restrictions here.
Some industry analysts argue that this is a dangerous precedent because they believe because it allows judges who presumably lack the technical knowledge of agriculture, to override the EPA's more informed decisions.
The solution is obvious, but very difficult. As we opined here in October, 2017, Bayer needs to develop a new herbicide and seed tech with a new MOA, and a herbicide that doesn't volatilize readily. That solution isn't easy nor cheap: it's a very tall order, requiring yet-unknown science, vast amounts of money, and years of regulatory approval. But we still think it is really the only satisfactory solution, and one which is badly needed in agriculture.
Pasture Sells For $2,564 Per Acre!
May 8, 2020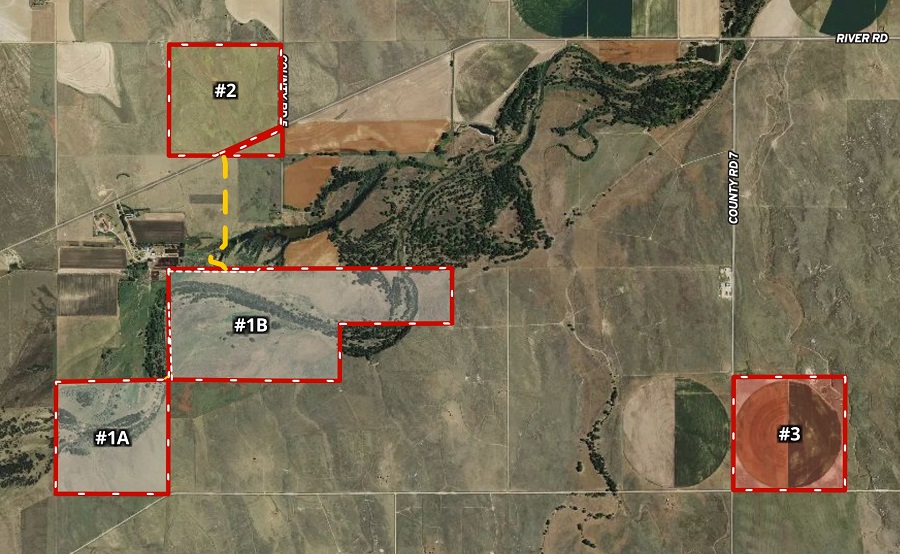 On May 6, 2020, Reck Agri Realty & Auction sold River Valley Ranch in an online sale. The auction was entirely online, based in Reck's Sterling, Colorado, offices. The 789 acres of irrigation, pasture, and CRP sold for $1.7 million.
The image at the right shows the River Valley Ranch land parcels, located southwest of Saint Francis, Kansas, on the Republican River. If you want details of the land, this excellent PDF from the Reck Agri site runs for 74 pages.
The four parcels were basically two pieces (parcels 1A and 1B) of river bottom pasture, a quarter of mixed pasture and CRP (parcel 2), and a quarter with a 115 acre center pivot (parcel 3).
The adjacent map from Reck Agri shows the corresponding parcel numbers, for your reference. The river bottom land was totaled 477 acres--sold as two separate parcels and in combination--and was advertised as having one mile of South Fork Republican River frontage.
As noted above, the total sales price was $1.7 million, with the irrigated quarter (parcel 3) selling for $3,086/acre, and the CRP/grass quarter (parcel #2) selling for $979/acre. While the irrigated pivot's selling price seems in line with recent sales, the CRP/grass quarter feels like it sold for a little more than we'd expected.
But the really big surprise was the river bottom pasture (parcels 1A and 1B) ground, which sold for $2,564/acre!
Given that the current COVID-19 event has recently significantly damaged the cattle market, and that good pasture ground might normally sell for $800-$900/acre in this area, this particular river bottom ground clearly sold for more than expected.
Since mineral interests seem unlikely to be the cause of the spirited bidding--both oil and natural gas prices are now in the dumpster--the most reasonable speculation is that this property is considered to have significant value for hunting. Please note that we are guessing here: we haven't talked with the buyers.
In any event, it was a surprising outcome, and we congratulate River Valley Ranch on their excellent sale.
Wheat Rust Update From KSU
May 2, 2020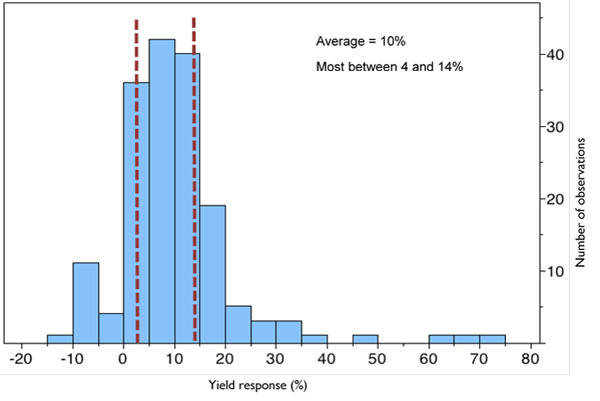 We recently reported on the March 27th KSU eUpdate wherein Erick DeWolf indicated that the chance of a rust outbreak in Kansas was "low". He added that, "While these early indicators look encouraging, let's keep an eye on the disease situation and see what develops as the season progresses."
In this interesting follow-up article in the May 1, 2020, issue of eUpdate, DeWolf doesn't make any further predictions, but he does give some detailed information with which allow you to fine-tune your treatment decision.
The article shows a graphic which indicates that at least 7 Kansas counties now have some rust, limited to the lower leaves, on wheat.
The gist of the analysis is that given today's prices, unless you have very high yield potential, you probably need at least moderate rust pressure to justify treatment. At high levels of infestation, the payback from treatment is till quite positive, even with $4/bushel wheat.
The math is that a 10% yield response is a statistically-reasonable rough number, and with 50 bushel harvest potential, that is perhaps a $20/acre payback, even at today's prices. With application cost about half of that number, a moderate rust infection is therefore probably worth treating.
But if the rust is merely at the light level--which is now the case in those 7 Kansas counties--treatment is probably not justified. For example, if you only expect 40 bushels per acre, and you are growing a proven rust-resistant variety of wheat, you would almost certainly need at least moderate levels of infestation to expect a reasonable return from treatment.
If the weather were to become significantly wetter, with accompanying higher humidity, treatment might yet be required, especially in high yield wheat with a susceptible variety.
We will keep updating you as more information appears, but for right now we agree with DeWolf's March 27th analysis.


Local Honor Students Recognized For 16th Year
April 25, 2020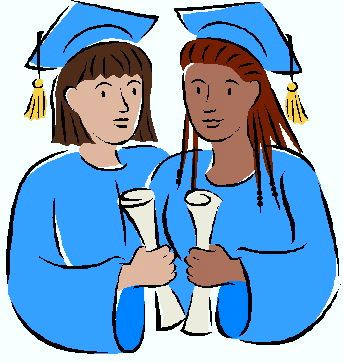 The Grace Flying Service Honor Student program has now completed its 16th year, and more than 450 students have been recognized over that time span.
The Honor Student program recognizes academic excellence by high school students in the Cheylin, Idalia, and Saint Francis Schools by annually giving the top five achievers in the freshman through senior classes an inscribed memento and by listing them here.
This year, the awards were presented by mailing, instead of the presentation at the respective schools' awards ceremonies, because of the covid-19 situation, and we appreciate the extra efforts made by the three high schools to help us accomplish the process. Thank you!
We think that academic excellence is important--both to the students who achieve it and to society as a whole--and we enjoy recognizing that excellence in our small way.
We hope that you will take a moment to scroll the list of students who have been recognized by clicking here.
$15.5 Billion in Covid-19 Farm Aid Coming Soon?
April 16, 2020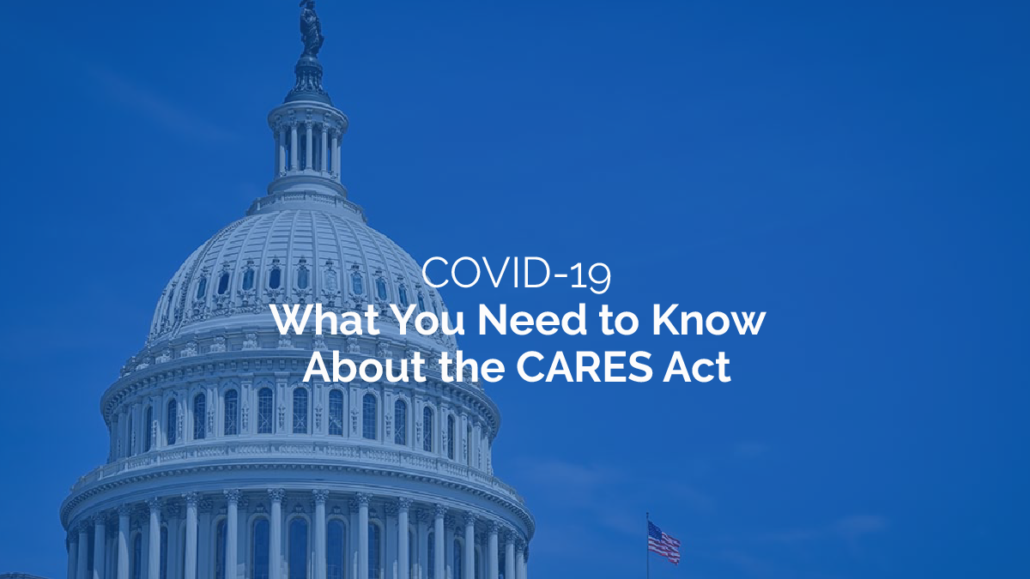 This Reuters story, published April 14, predicts--using both named and unnamed sources--that the USDA is about to send $15.5 billion to farmers and ranchers "within weeks".
A Farm Bureau representative, Andrew Walmsley, is quoted saying that the fifteen billion dollars is "not enough to cover all of agriculture, but we see it as a first step." Walmsley predicts that more aid will be forthcoming.
Reuters says $9.5 billion is earmarked for ag--livestock and fruits and vegetable producers--in the recently-passed CARES Act, and that the money is already available to USDA.
Another $6 billion will come from the Commodity Credit Corporation (CCC) funding, which is a funding mechanism the Trump administration has used in the past.
Further, the CARES Act is also moving another $14 billion to the CCC soon, sometime after June 30, 2020, to (more than) replace the money going out now.
The next day, this Bloomberg article quoted Agriculture Secretary Sonny Perdue confirming the $15.5 billion aid package, specifically citing purchases of milk and meat products.
"We want to purchase as much of this milk, or other protein products, hams and pork products, and move them into where they can be utilized in our food banks, or possibly even into international humanitarian aid," Perdue said.
Perdue said he also wants to include direct financial assistance to farmers in the bailout, which may be announced as soon as this week.
Both articles are worth a read. It sounds like federal corona virus-inspired aid could begin to move into farm country before the corn as high as an elephant's eye...
Wheat: Weeds and Rust Outlook
April 8, 2020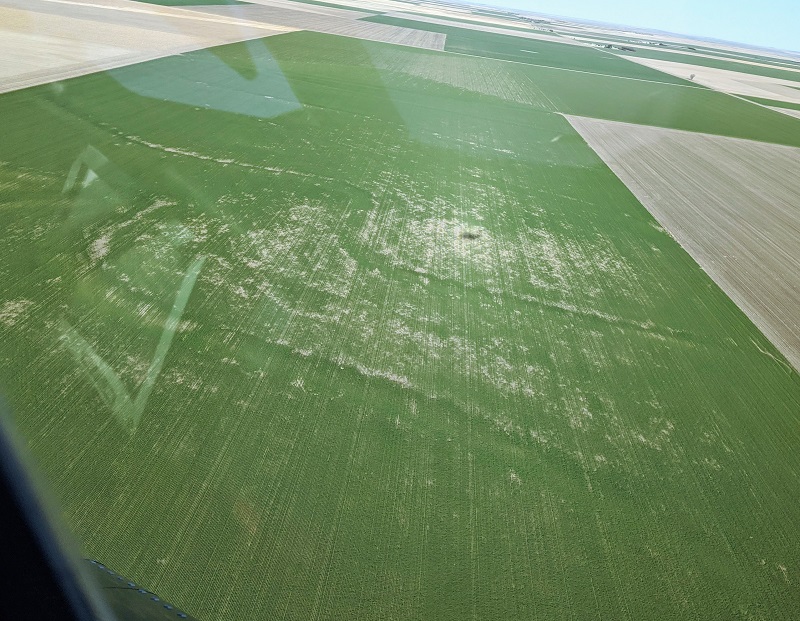 We have been flying most days when the weather allows, and the number of applications is probably normal or slightly below. Maybe half of the farmers are adding CoRoN Metra to the tank mix.
The photo to the right was taken on April 7, 2020, while we were spraying another field of wheat for weeds. The field is in Cheyenne County, Kansas, near the Colorado border. (You can see the airplane's shadow in the field, if you look closely.)
As you can see, there are thin spots in the field.
If you were to view this field from the ground, it would look much better.
We have noticed a lot of wheat this spring that is thinner than normal, and the danger is that these thin spots can become weedy as the season progresses. Not every field has thin spots, but many more than normal have these areas.
If you haven't walked or driven across your wheat this spring, we recommend that you do so soon.
Check the thin spots for weed pressure:at this time, the kochia is still very small and hard to see.
Whether you spray it yourself, or hire us or someone else, now is the time to scout your wheat by actually going across it. You may not need herbicides now, but scouting now will allow you to decide.
Changing topics: The current news on rust pressure is that because the rainfall levels in southern Texas were low last fall and this spring, "the risk of a severe outbreak of stripe rust in Kansas is low."
That quote is from Erik DeWolf, KSU Extension Plant Pathologist, and this link will take you to a brief explanation of the reasoning behind it.
In addition, there are some interesting graphics of historical moisture patterns in south Texas.
Stay safe: scouting wheat surely counts as social distancing!
COVID-19 Update
March 27, 2020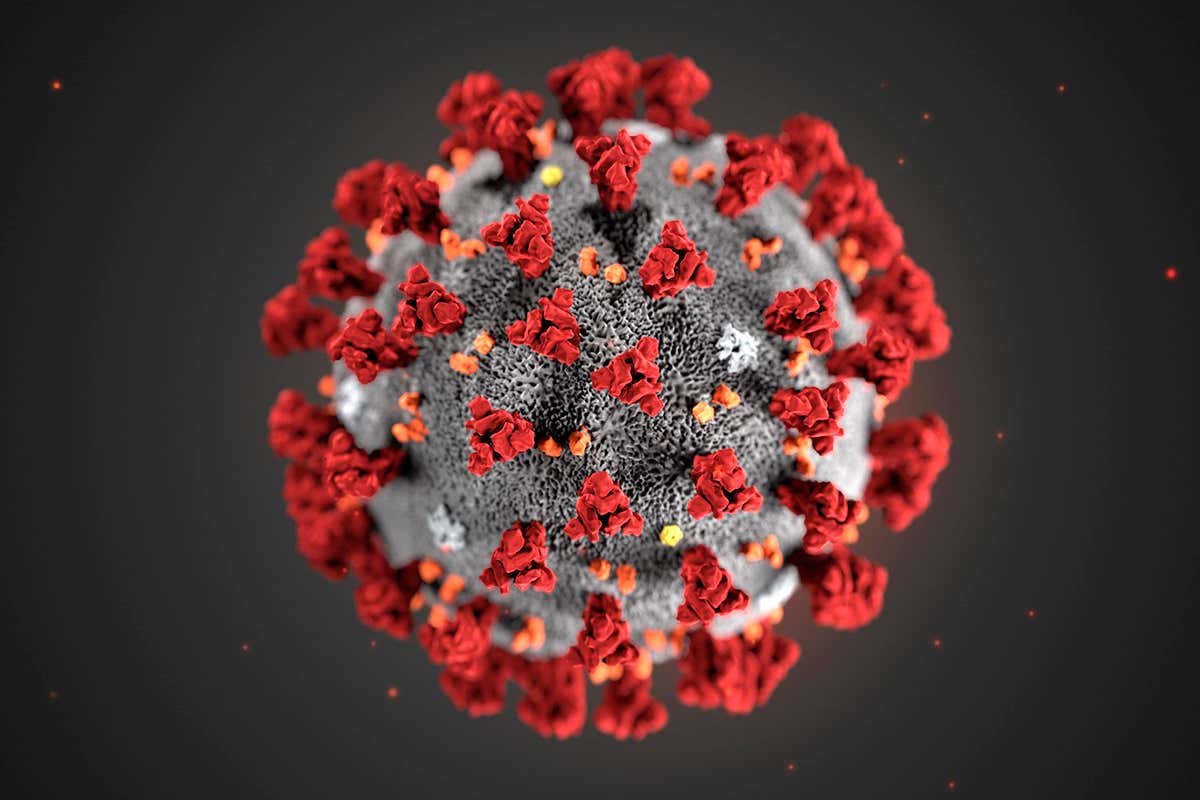 The COVID-19 disease (which is caused by the SARS-CoV-2 virus) has affected virtually all Americans in one way or another.
The agricultural sector is officially and logically designated (Presidential Policy Directive 21) as a critical infrastructure sector which can and should continue normal work patterns during the COVID-19 pandemic.
Therefore, we expect that both Grace Flying Service and our farmer customers will continue near normal operations--within the bounds of responsible social distancing practices--during the pandemic.
We presently believe that Grace Flying Service can provide normal services, as long as our supply chain of fuel, oil, crop protection products, and maintenance facilities are up and running.
At this time, all of those key factors are available to us, and we hope that situation doesn't deteriorate.
Many of you already employ the telephone and other electronic means to contact us, while some customers occasionally prefer an actual office visit. We have always liked office visits, as our farmer-customers provide us with valuable insights into their day-to-day challenges, as well as assessments of the real world of agriculture.
However, for the next few weeks, it might make sense for you to use electronic communications instead of office visits, because that is likely safer for you, us, and the community at large. When you do visit, we will try to remain at least 6 feet apart, as mandated by both regulation and common sense.
We are anxious for the world to go back to normal, and we assume that you share that desire. We want to do everything that we can to speed up that process.
For more information, here are links to Nebraska, Colorado, and Kansas websites with regional COVID-19 information and their corresponding regulatory edicts.
Please stay healthy!
Online Land Auction Results
March 13, 2020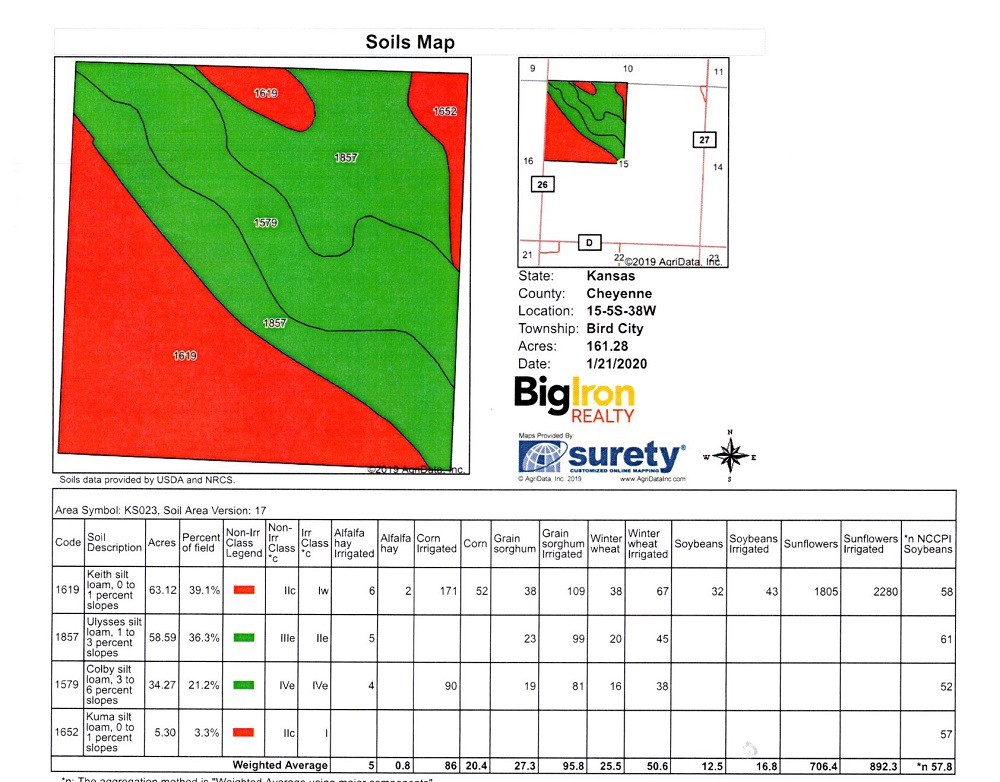 On March 12, 2020, BigIron Realty, Columbus, NE, finalized an online auction for 619 acres of prime Cheyenne and Sherman county dryland.
We didn't attend the final event, which was held in the Bird City, Kansas, Legion Hall. This was entirely an online auction.
Please click this link to see the complete description of the land and auction, including maps and detailed soil analysis.
Here is an excerpt from the BigIron website for one of the four tracts:
"It's 73% Keith Silt Loam 0-1% slope and 27% Ulysses Silt Loam 1-3% slope. It's all type 2 dryland soils and would be considered 'prime farmland' if irrigated. It lays beautifully flat and is highly productive with outstanding FSA payment yields of 56 bushels wheat and 121 bushels corn. These soil types in Bird City Township in Cheyenne County are highly sought after and rarely available for sale...It's cash rented for $60 per acre."
We haven't surveyed the land, but based upon the photos and the locations, we would agree that this was top quality farm land.
Both the mineral and water rights went to the buyers. The four quarter's selling prices ranged from $1,750 to $2,250 per acre.
Overall, the land sale totaled $1.239 million, so the average price was $2,000 per acre.
There a couple of other sale results just below, and we have previously reported on land sales which were held August, 2019; March, 2019; April, 2018; and February, 2018. Please click these date links for a historical tour of local land sales.
Irrigated and Dryland Sells Well
February 27, 2020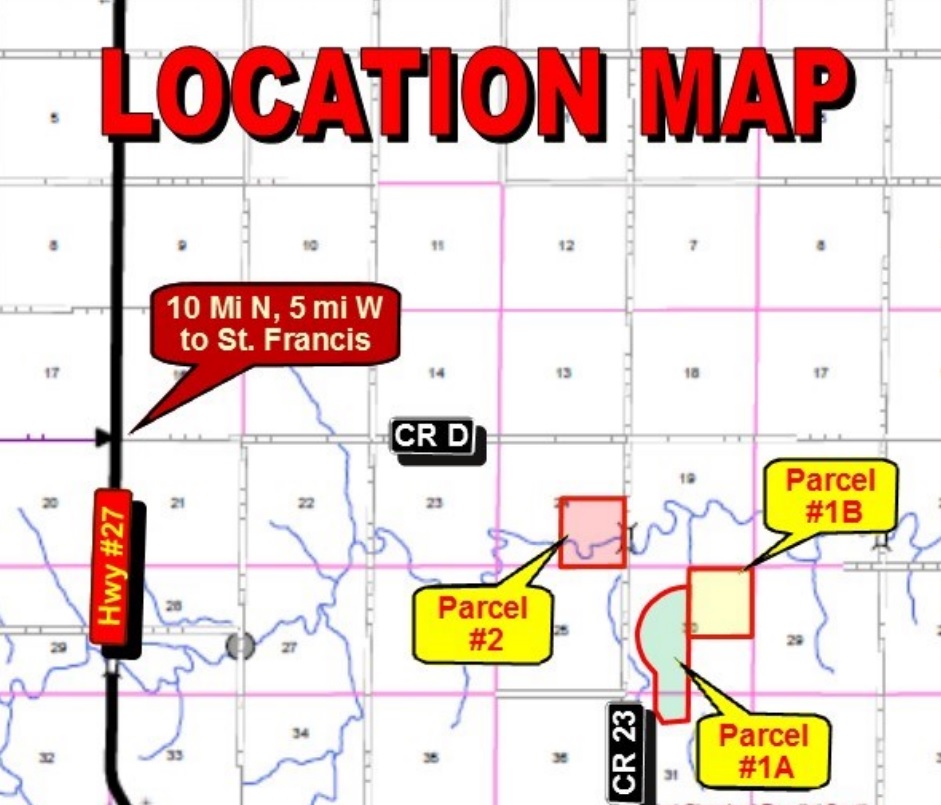 On February 24, 2020, a land auction was held in the Bird City, Kansas, American Legion for 524 acres of land, including 267 acres of pivot irrigation. The irrigated ground was a 122 acre full pivot and a 145 acre half-pivot.
We couldn't attend the sale, so this report is based upon the Reck Agri website and a report from a knowledgeable observer who did attend.
We were told there were at least ten active bidders, which seems like fairly strong interest.
For sale details, you can click here for the auction flyer. Basically, there were two parcels: one was 155 acres of dryland, and the other had the two pivots including the corners and attached dryland and grass.
The land is located about 15 miles southeast of Saint Francis, Kansas, about two miles north of the Sherman county line.
The dryland quarter had 131 acres of farm ground and 23 acres of grass. It was reported to have 49 bushel/acre of wheat yield. As you can see from the Google satellite image, it has a crick bottom running through it. This quarter sold to a buyer for about $1,250/acre.
Another buyer purchased the irrigated parcel, which also contained 89 acres of dryland and 14 acres of grass. The auction flyer itself describes the land as "rolling terrain" and it was described to us as less than prime land.
However, the Zimmatic pivots were reported as in good condition, with good pumping equipment. The wells are strong--reported in the 700 gpm range--with more than adequate water rights.
This second parcel sold for 1.16 million dollars, so if you assign a value of $1,250/acre to the 103 acres of dryland and grass, the 267 acres of irrigated ground sold for $3,862 per acre.
Compared to the February 6 sale below, these prices are lower, but the previous sale had higher quality dryland.
Overall, we still think that local land prices are at least stable, if not strong.
Bayer/BASF Lose $265 Million in Peach Orchard Damage Case
February 19, 2020
This AgPro article about peach orchard damage from dicamba is interesting for a couple of reasons: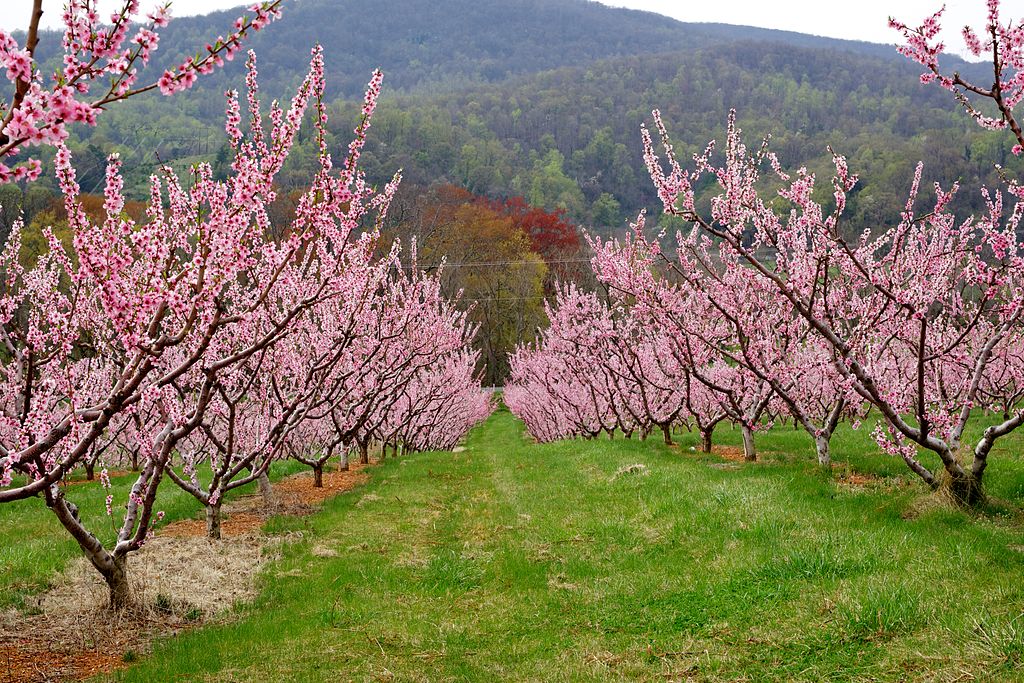 First, the jury apparently not only ignored the defense argument that the peach orchard damage was not related to the dicamba, but also decided to award very large punitive damages: $250 million in punitive damages for a claim of $15 million in actual damages.
Second, the plaintiff's attorney alleges that the multi-district litigation (MDL) model has been expanded and will affect future cases. (The orchard was located in Cape Girardeau, Missouri.)
Bayer and BASF are going to appeal the verdict, yet they also claim that because peaches are a perennial plant, this verdict is unique: They argue that the peach orchard claim is fundamentally dissimilar to the numerous claims for soybean crop damages, because soybeans are an annual plant, not a perennial.
That "perennial vs annual" argument could make sense for the actual damages, but we aren't sure if it also applies to the large punitive damages imposed?
The complete AgPro article is short and worth a read, but here are some excerpts from it:
"Bader Farms, the plaintiff, sued in civil court for damages that occurred to peach trees starting in 2015 when Xtend cotton seed was launched. Bader says his peach orchards are dying as a direct result of dicamba damage from drift or volatilization."
"While Mr. Bader is claiming losses in his orchards, the evidence fundamentally showed nothing related to Xtend seed or herbicide," says Chris Hohn, partner at Thompson Colburn law firm and attorney for Monsanto. "What is happening at Bader farms is not dicamba, it's armillaria root rot."
The Bader Farms versus Monsanto and BASF trial comes before a multi-district litigation (MDL) case involving alleged dicamba damage to a large number of farms including soybeans, vegetables and fruit trees. "This will certainly have an effect on that MDL and future cases," Randles adds.
"Bader is unique," Hohn, who also is one of Bayer's attorneys for the MDL, says. "[This will have] no impact on soybean cases because they are fundamentally different. Peach trees are perennial, and soybeans are annual. Soybean cases are held to one year [of damage] versus the claims by Bader that were vastly different [from 2015-2018]."
This case began in 2015, and Monsanto was acquired by Bayer in September, 2016, for $66 billion. This is why both Bayer and Monsanto are mentioned in the article. We aren't sure how much liability, if any, that Monsanto has in this case.
We will try to keep track of this case, to see if the appeal results in a different outcome.
Local Land Values Appear Strong
February 6, 2020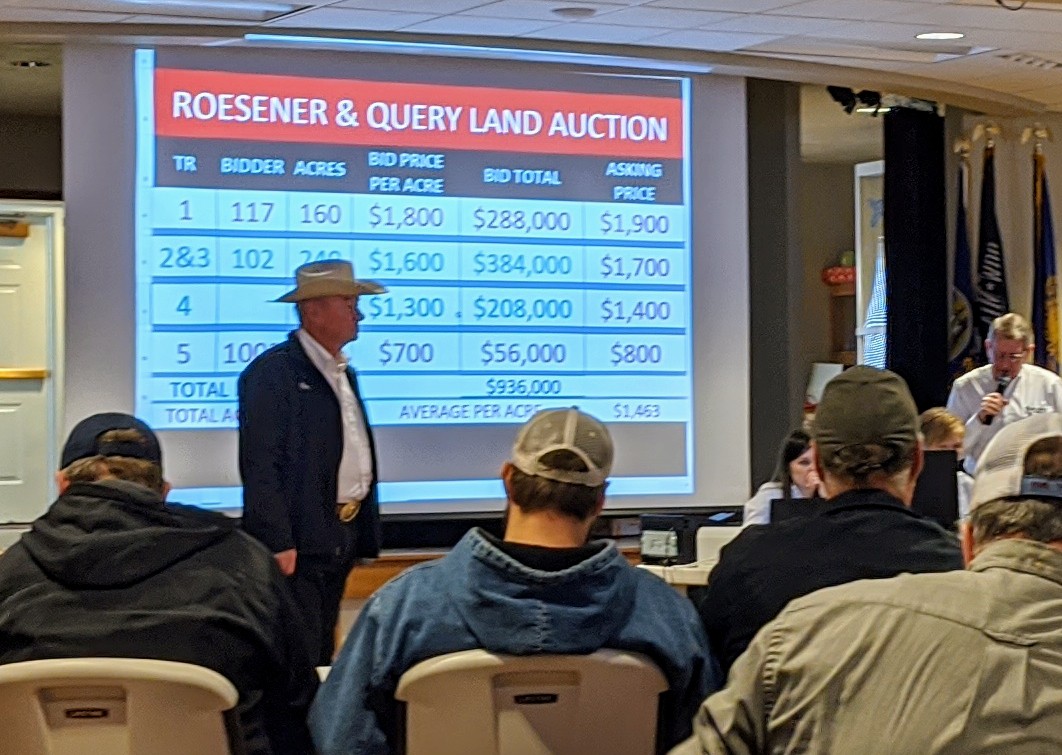 Yesterday, we attended a land auction in Bird City, Kansas. The sale of 640 acres was mostly high quality dryland acreage, from two separate farms.
The sale seemed well attended: we counted about 75 people in the room. There was a free lunch served in the middle of the bidding, but we don't know if the food affected turnout. In addition, there were bidders on the phone lines and the internet.
Tracts 1, 2, and 3 (totaling 400 acres) were located about 5 miles northeast of Bird City, as the ag airplane flies. Tracts 2 and 3 sold as one unit.
Tracts 4 and 5 (240 acres) were maybe 11 miles southeast of Bird City. There was 52 acres of grass land scattered throughout the tracts, leaving 588 acres of farm ground.
The two sellers were Edna Roesener and the Query Family. Both sites consisted of adjacent parcels. The dryland corn yields were 111 bushels/acre, and wheat yields of 52 bushels/acre.
You can view a sale flyer, which details the land auction, which was held by Farm and Ranch Realty, Inc., by clicking here.
The first phase of the bidding went quickly, and after the lunch break, the parcels (1, 2&3, 4, 5, respectively) sold for $2,150, $1,900, $1,950, and $1,350 in the third phase of bidding.
Those numbers compute to a weighted average price of $1,906 per acre.
We agree with the sentiment that these prices represented stable to slightly bullish pricing, when compared to sales in the last year.
We have previously reported on land sales which were held August, 2019; March, 2019; April, 2018; and February, 2018.
Please click those date links to read about the previous sales.
USMCA Trade Agreement Widely Praised
January 25, 2020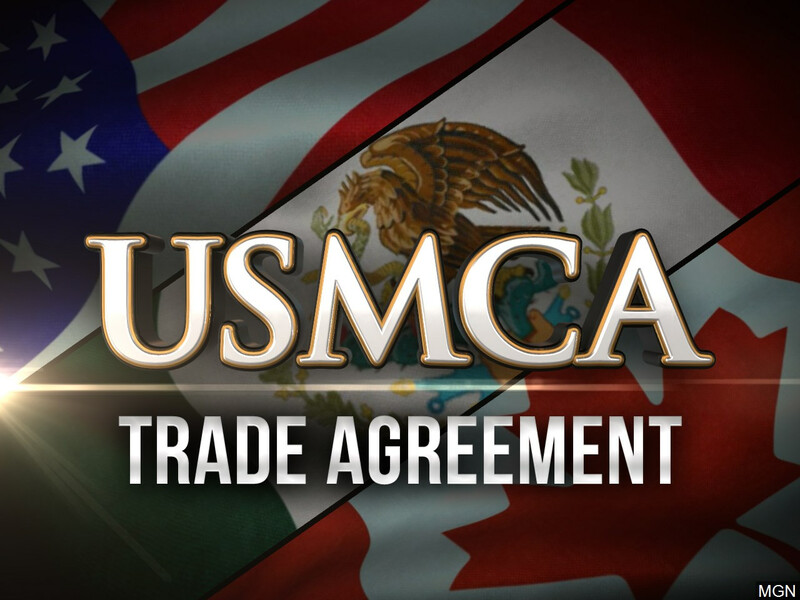 In a time of political upheaval for the Trump administration, the Senate passed the USMCA Trade Agreement with broad bipartisan support with a vote of 89-10. The breadth of the acclaim for the deal is exceptional, as reported by this AgPro article.
As this is written, President Trump is in the middle of an impeachment trial, and his administration suffered criticism in August when it granted ethanol waivers to large oil companies, seemingly at the expense of corn growers. Here's a Reuters article about the controversial refinery (RFS) waivers.
Given this turbulent political environment, it is notable that the overwhelming acclaim of the USMCA trade deal comes from all segments of the agricultural industry, including grain, cattle, pork, poultry, ethanol, fertilizer, and equipment dealers.
The AgPro article quotes Agriculture Secretary Perdue as saying, "We've long waited for this day and now USMCA will finally head to the President's desk. The passage of USMCA is great news for America's farmers and ranchers. With Congressional consideration now complete, our farmers and ranchers are eager to see the President sign this legislation and begin reaping the benefits of this critical agreement." (emphasis is ours). There are many more quotes from the various trade groups in the article.
As every farmer knows, grain prices are low, and have been for several years. If the new USMCA agreement raises those prices substantially, it will help considerably in increasing farmers' profitability. When and if that happens, every segment of agriculture will benefit. We assume that President Trump will sign the bill into law very quickly, and we join in the hope that it will raise commodity prices across the board.
Cover Your Acres 2020
January 16, 2020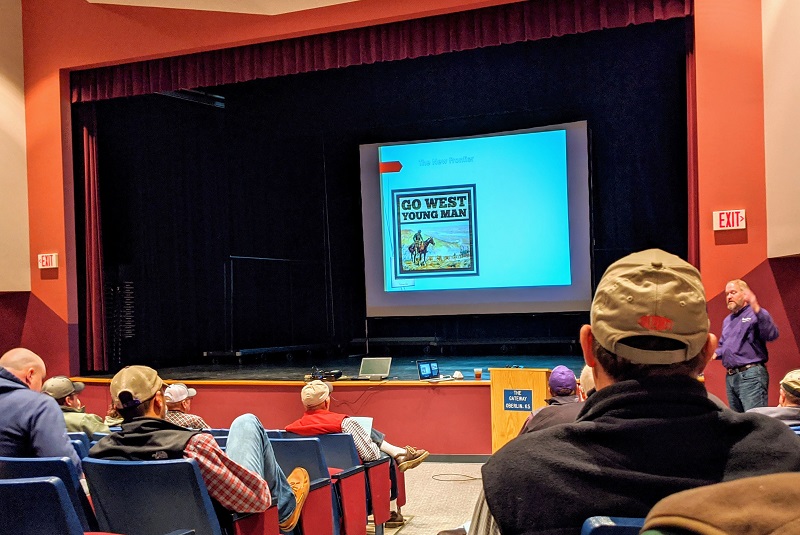 We attended the second day of the 17th annual 2020 Cover Your Acres conference, which is sponsored by KSU and held annually in the Oberlin, KS, Gateway Center. Because of scheduling conflicts, were only able to attend three of the seminars, but we read the program book on the other sessions. The dates were January 14-15, 2020.
As this is published, the online meeting presentations are not yet available, but we will update this article with links as soon as possible. Here is a link to the program schedule, showing topics and speakers. As usual, some of the programs were very good.
Jeanne Falk-Jones gave an excellent overview of the available methods of controlling two significant weeds: Tumble Windmill grass and Palmer Amaranth.
It is difficult to summarize Jeanne's presentation here, but she noted that early chemical treatment using herbicides with varying modes of action is critical. Additionally, the occasional tillage for windmill grass might be useful.
Aaron Harries, Vice President of Research, Kansas Wheat, gave an excellent presentation on the state of wheat research today. He said, "We will learn more about wheat in the next decade than we have in the last 10,000 years." He then proceeded to convince us that his statement was true.
As reported here and here, it took 200 researchers 13 years to decode the extraordinarily complex wheat genome. But in January, 2017, they announced success and published the results.This announcement has significant implications for future wheat varieties.
Surprisingly, the red wheat genome is five times more complex than the human genome. The wheat genome is one of the most genetically complex organisms on planet Earth. Wheat's genome has 16 billion DNA letters compared to 3 billion in the human genome. Soybeans and corn are much simpler organisms. Five times more complex...!
Harries said that the research on the DNA project was aided by the 2 cent per bushel wheat checkoff funding which wheat producers pay.
Since 1989, the planted acres of wheat in Kansas has dropped by half, from 12.5 million acres to 6.5 million acres in 2019. However, since yields in Kansas have gone up dramatically in the last four years, from 38 to 49 bushels per acre average, total wheat production has remained stable. Wheat acres are being replaced by soybeans and corn in Kansas as those crops move eastward.
Because the genome is now known, Harries predicts that within three years, using supercomputers (because regular computers don't have the necessary power), the "stupidly complex" wheat genome will be managed to create "virtual DNA" variety breeding.
This means that a computer-generated solution, coupled with CRISPR/cas9 based genetic modifications, will allow researchers to design a wheat seed that has whatever characteristics that you want, and then quickly introduce that new variety to the agricultural world. The development time of new wheat varieties could be dramatically reduced.
The implications are powerful: wheat varieties that have both high protein and high yield might be possible. New disease-reistant varieties might be available more rapidly than the diseases can evolve, solving some of the wheat rust susceptibility issues now present.
Durum wheat for western Kansas could be grown under contract to pasta makers in Denver or Kansas City, solving availability issues where durums are now grown, while creating new, local markets.
The inherent disease resistance of goat grass could be crossed with wheat varieties to give wheat much better disease tolerance.
The wheat research facility in Manhattan, Kansas, is a state-of-the-art facility, and worth a visit, Harries believes. It was built with farmers' money, and he extended an invitation to take a tour.
Finally, although we didn't attend the presentation, the essay in the program by Mark Wood and Jordan Steele, discussed the financial challenges of farming in NW Kansas. The information in the program guide seems both salient and offers practical advice for managing cash flow.
If you are looking for guidance on managing the finances of your farming operation, we think this article is worth a read.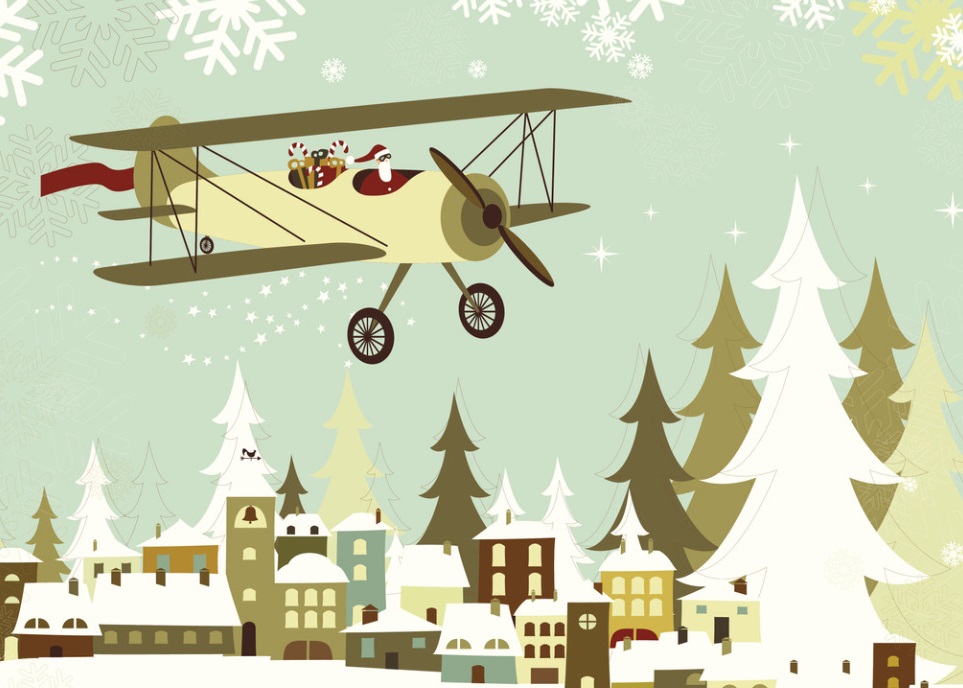 Happy Holidays!
December 14, 2019
Thank you for your business!
We appreciate your continued trust in us.
We hope that each of you has a great holiday season, and a safe and prosperous 2020!
NAAA Annual Meeting
November 22, 2019
Last week, we attended the National Agricultural Aviation Expo, the national ag association's annual meeting. It was held in Orlando, Florida.
The meeting is the largest aerial application gathering in the world, and hosts many suppliers, including airframe manufacturers, as well as many educational opportunities.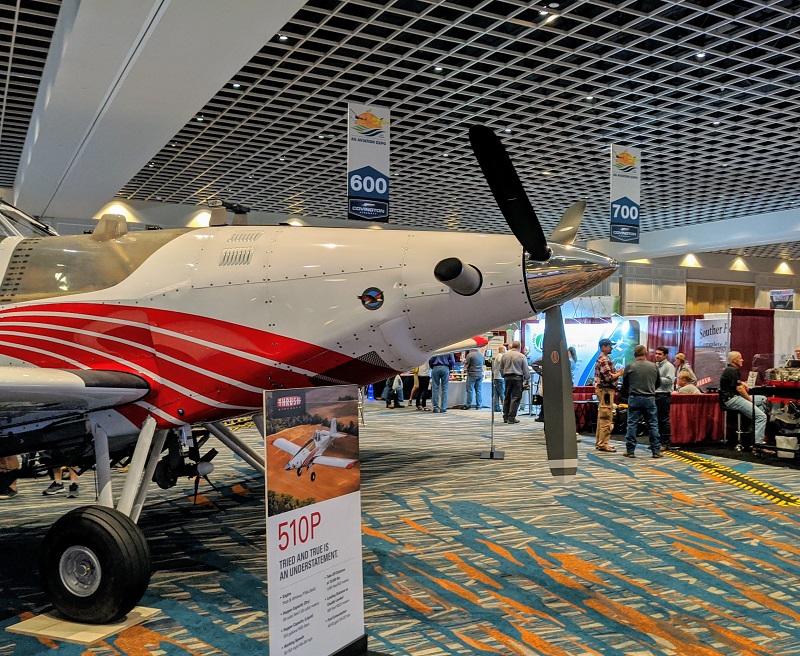 We were reminded that aerial application began in the southeast of the United States, on cotton production, in 1921. This means that we are less than two years away from the 100th anniversary of the aerial application industry.
We attended an optional meeting concerning a new, emergent segment of the industry: Remotely Piloted Aerial Application Systems (RPAAS). Today, RPAAS is small group which is trying to advance this new technology, and make it mainstream. Additionally, they want to help the FAA devise regulations for these aerial systems which will not have humans on board while applying pesticides.
Most of the current RPAAS systems are UAVs--multi-rotor drones--but there is at least one fixed wing version, the Pyka. It's worth a look: click here.
RPAAS faces several technical hurdles, which are being solved fairly quickly, but also significant regulatory ones. Aerial application in the US is controlled by FAR 137, and that regulatory framework has not been modified to allow remotely piloted operations for aircraft over 55 pounds gross weight. Like most Federal agencies, the FAA is not known for rapid adoption of new regulations, so this is still a major hurdle for RPAAS technology.
Other subjects which we attended included spray pattern analysis, turbine engine maintenance, new pesticides which are not yet labeled, and old pesticides, including chlorpyrifos, which are approaching their required 15 year re-certification process with the EPA.
We also heard speakers concerning global agricultural market trends, including the changing diet preferences of the millennial generation, which is trending toward organic and plant based--not animal-based--products.
Finally, we heard from a firm which is deploying new aerial imaging technology for crops. The new imaging systems have very high resolution: 0.2 mm per pixel, which is high enough to actually see insects on the leaves, and those insects are are discovered by, and highlighted in the photos, by AI technology.
We left convinced that even though there are clearly challenges ahead, the aerial application industry enters its second century with a promising future, at least for those willing to embrace change.
Fighting Fires With the Thrush
November 10, 2019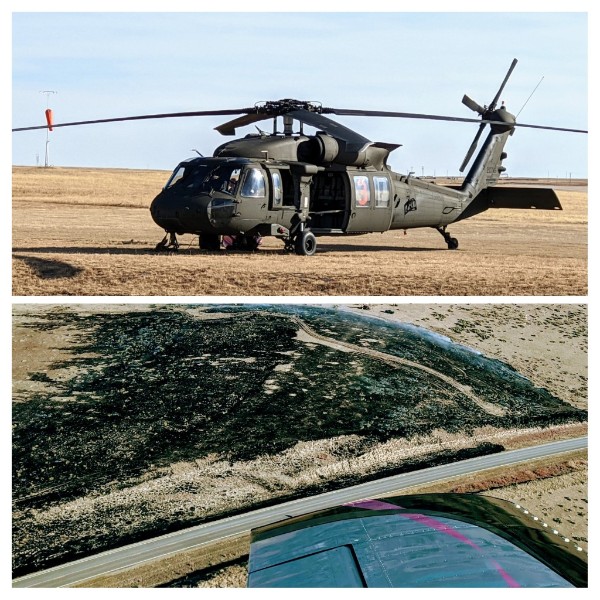 On Saturday, November 9, 2019, the opening day of pheasant season, plumes of white smoke began to fill the skies around Saint Francis, Kansas. Initially, it looked like proscribed burns, but as the number of fires increased, it became obvious that something else was going on. The number of fires was reported, unofficially, as 21 in total.
As the fires began, the wind was light, but within an hour, it was gusting to 25 knots from the south-southwest, and fire personnel from multiple areas began arriving, rumored to be 14 jurisdictions in all.
Grace Flying Service quickly launched their Thrush ag airplane and applied 2,000 gallons of water, using the emergency dump gate, over 5 or 6 flights. Rick Rogers, a local pilot, served as spotter and reconnaissance, and directed the Thrush's loads. John "Dusty" Dowd also flew another Thrush aircraft up from Syracuse, Kansas, to aid in the battle.
The Kansas Forest Service became involved, and requested a Grumman S2F Tracker air tanker, which arrived later in the day--see photos. The tanker was an interesting, if older, aircraft: It has two Wright 1820 radial engines, and a gross weight of 29,000 pounds. Surprisingly, the Grumman Tracker only carried 800 gallons of water. For comparison, our single engine turboprop Thrush will haul 500 gallons of water maximum and 400 gallons is a comfortable working load in the windy, turbulent conditions of fire fighting.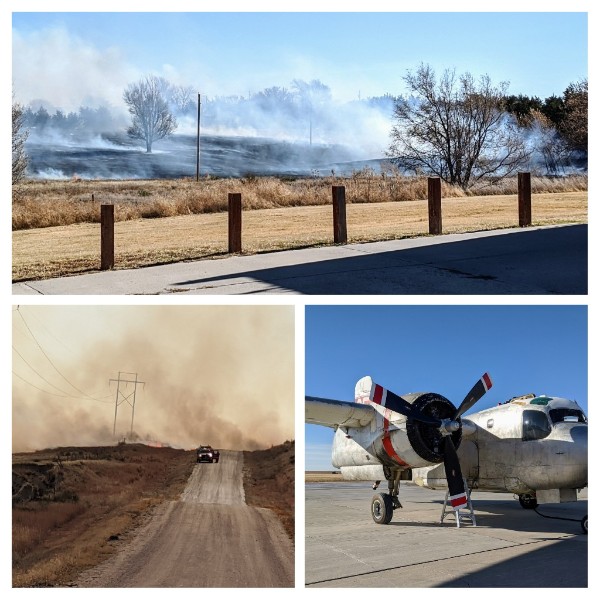 From the air, there was smoke in all directions, and it looked like the entire county was on fire. If the winds had been stronger, or lasted longer, it could have been a much worse situation.
The next day, Sunday, two Blackhawk helicopters arrived, along with a transport load of Jet A to fuel them. The Blackhawks were planning to use flexible buckets, lowered into local ponds, to apply to the remaining fire hot-spots.
We have no estimates of damage, but in addition to extensive pasture and CRP damage, at least some standing corn was also destroyed. Many road signs are laying on the ground, their supporting posts burn away, and there is damage to a lot of fence posts. It is too early to know if the trees that were affected will suffer permanent damage.
The cause of the fires was a truck which was spewing sparks over many miles, and which ignited the numerous fires. The theory is plausible because all of the fires were adjacent to--and downwind of--the highway from Haigler, NE, to Wheeler, Kansas, and then south for a few miles.
Noxious Weed Control
September 17, 2019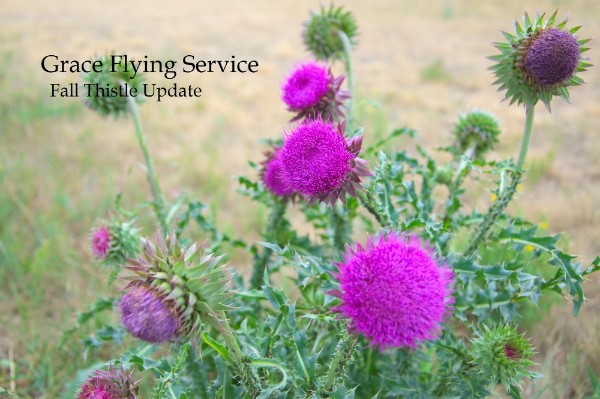 We are gearing up for the annual Musk and Canada Thistle fall applications. Our reminder postcard has been sent, and will arrive soon. Here is what it says:
Postcard Text Follows:
Fall is the best time to treat pasture thistles.
We need your order and maps soon, so that we can plan the application schedule. Remember, the window of opportunity can be very short in the fall, and the small acreages often require combining customer loads.
Our deadline for taking thistle orders is Monday, Oct 14, 2019.
Musk and bull thistle can be treated until the ground freezes, but Canada thistle needs sprayed before a killing frost.
We think the best chemical choice is GrazonNext HL, which is a pre-mix of Milestone and 2,4-D.
The Cheyenne County Weed Department cost-shares 25% of the chemical cost on approved applications, and we will handle the paperwork for you. Contact us or the Weed Department if you have questions.
Farm Bill Meeting
September 1, 2019
We attended a meeting on the new Farm Bill on August 27 at the Goodland Elks Lodge. There was a big crowd, more than 200 people, and the seating was nearly all utilized.
The new 2018 Farm Bill replaces 2014 Farm Bill. Mykel Taylor, KSU Associate Professor, explained that the Farm Bill spends 77% of the budgeted money on nutrition (SNAP), and 7% on conservation. The remaining 16% is what farmers actually consider, with 7% going to commodities and 9% to crop insurance.
The crop insurance portion is mostly unchanged per requests from farmers to their legislators, so the bulk of the meeting is about the 7% which affects commodities. Before you read any further, we should note that KSU has a comprehensive website called agmanager.info, and you might want to go the Farm Bill portion of that site by clicking here.
The choices for farmers are generally the same as last time: PLC versus ARC-CO. The PLC choice is based upon prices only, while ARC-CO is based upon total revenue: prices and the yields in the county where the land is located. The good news here is that while the 2014 Farm Bill required producers to choose for the entire five year period, the choice now is only valid until 2021, at which time a farmer can choose between PLC or ARC-CO every year.
The first sign-up date is September 3, 2019, and the deadline for the October, 2020, payment is March 15, 2020. The recommendations were to wait until January or February, in order to get all harvest data for 2019 available, then sign up well before the March rush.
This Farm Bill has a payment cap of $125,000 and an AGI limit of $900,000. Also, the FSA loans now max out at $600,000, up from $300,000.
The presenters all believed that visiting your FSA office in person would be helpful: the agmanager.info has a lot of information, but every farm has specific differences, and it is a very complicated decision: Specific county yields vary by region, different crops have different moving averages of previous prices, and the Supplemental Coverage Option (SCO) is only available in the PLC program.
Other speakers included Monte Vandeveer, KSU Extension Ag Economist; Jeanne Falk Jones, KSU Multi-County specialist; and Robin Reid, KSU Extension Associate. The speakers were all informative, but the discussion is too detailed for us to chronicle here.
We think that you should check out the agmanager.info website,then visit your FSA office(s) early next year. You might want to take your crystal ball in order to determine future commodity pricing, too.
Want to Read More?
There are many more stories to read in our archives. Please click here to read our archived stories.
Or use our search page to find keywords on our website.